Depending on your application, your laser cleaning system will operate using either a handheld or an automated optic. Both optics have their own benefits and limitations, and determining the right optic will be important to get the best treatment for your substrate. Handheld optics offer advanced mobility and allow you to adjust and maneuver around the substrate you're cleaning, while automated optics offer maximized repeatability and allow for an extremely precise clean. But what if your application requires more than one optic? What are your optic choices?
BEAM SWITCHES
A beam switch essentially allows you to connect two optics to one resonator, giving you the option of using two handheld optics, one handheld and one automated optic, or two automated optics. All of our laser cleaning systems can be designed with this capability, and we are beginning to see more companies across varying industries take advantage of two optics.
OPTICS
The optic is the end effector of our laser system—where the actual beam comes out. Each optic is tailored to the application and different optics are better suited depending on your needs, capabilities, and wants. We have multiple handheld and automated optics ranging from our OSH50, Stamp series, cleanCube Optics, and our new Effiscan.
OPTIC APPLICATION STRENGTHS
Just like the laser systems themselves, optics are completely applications based and we won't be able to accurately guide you towards one optic or the other without running testing on your materials first. That being said, some applications that tend to show better results with a certain optic are listed below.
Handheld optics tend to work with: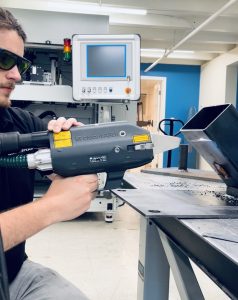 Molds
Manufactured Automotive Parts
Weld Inspections
Paint & Rust Removal
Restoration
Automated optics tend to work with: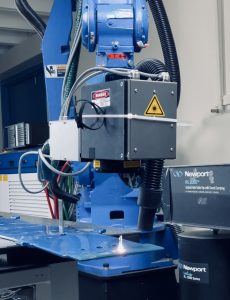 Passivation
Pre-Weld
Post-Weld Silica Removal
Repeated Parts
High Precision & Consistency
 Production Lines
BEAM SWITCH POSSIBILITIES
Our customers have proven that the beam switches can be implemented in many different ways, it really just comes down to what works best for your application and the setup of your operation. Below, are some ways we have seen a beam switch being successfully used in everyday operations.
Two Handhelds:
Two handheld optics can be super useful when it comes to human/operator error. Say a worker accidentally runs over one optic with a forklift or the entire optic is dropped, and the protection window shatters, instead of the coinciding shutdown that would occur if you only had one optic, you could switch it for the second and keep operations running smoothly.
A second handheld optic is also handy for any project involving radioactive materials on any sort of nuclear decontamination project. One optic can be left in the hot area after use, and the other immediately switched in, with zero downtime.
Two handhelds can also be used when you have two different sorts of beam qualities. One optic may be a larger one, like one of our standard handheld optics, while the other is a smaller, more compact optic like the Effiscan. The compactness of the Effiscan will allow you to better target different areas with accessibility issues.
One Handheld and One Automated:
Having both optics can be useful when you have a mold where you can access 80% of it with an automated optic and then the other 20%, you'll use the handheld optic for. This allows the automated optic to work at a faster speed, while still offering maximized repeatability. The handheld optic can then come in and clean all the areas inaccessible to the automated optic.
Two Automated:
A second optic can be added to help extend the reach of the laser. The first optic cleans as much area on a part as possible and then the second optic is placed just beyond the reach of the first optic, to clean any leftover contaminants off the substrate.
Utilizing a beam switch is a great option for anyone looking to expand their current cleaning capabilities. Whether you are looking for a more targeted clean, a more flexible process, or are just wanting to have an extra optic on hand, a beam switch may align with your cleaning needs.
WHATEVER YOUR NEEDS, ADAPT LASER HAS THE SOLUTION FOR IT
Adapt Laser specializes in the know-how and application of laser cleaning solutions. We offer products with a range between 20 and 1,600 watts and provide training to ensure your employees can get the most from their laser cleaning solutions. We've equipped a variety of industries and companies with laser cleaning solutions — including military and defense for the US Air force and Navy — and hundreds of organizations trust our state-of-the-art laser cleaning solutions.
Contact us today or call (816) 466-5855 to find the right laser cleaning solution for you.