Laser technology distributes thousands of focused laser pulses per second onto contamination layers, which makes it an ideal way of blasting them away. That said, not all layers are made of the same components. Rust and corrosion are different from paints and oils. Using lasers to weld is not the same as using them to clean. This is why we provide different laser cleaning solutions that can be tailored to your organization's specific needs.
At Adapt Laser, we make our own laser systems, specifically designed for cleaning. We offer products with a range between 20 and 1,000 watts, and all of them provide unmatched results, with zero greenhouse emissions, no waste, and are fully safe for your employees.
Whatever Your Needs, We Have a Laser for It
Removing rust and corrosion is not the same as removing layers of dirt and grime. Cleaning metals for welding is not the same as cleaning limestone. No matter your specific needs, we have a laser solution that will work for you.
Laser Processing Cells
Laser processing cells allow customized automation for small to large-sized parts with a repeatable, quick, and laser safe option.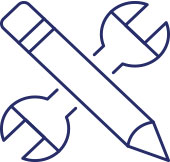 Customized Laser Solutions for Unique Needs
If your organization has a particular demand that's unique, Adapt Laser can still design an exclusive, customized cleaning solution. By working with our partner, cleanLASER, robotics companies, automation integrators, and many more, we're able to deliver custom solutions to many one-of-a-kind applications.
View Our Custom Laser Cleaning Systems
Looking for more info about buying a laser?