Our handheld laser cleaning options are optimized for projects with various uses and adjustability needs. From delicate artifacts and molds to manufacturing automotive parts, our handheld options provide the flexibility you need without sacrificing the results you'd expect across any of our laser solutions. This means you'll gain the mobility you need to clean varying geometries, multiple part numbers, and more. 
Proven and vetted by the United States Air Force, our handheld laser cleaners come in low, mid, or high-power solutions to suit your unique needs. These systems allow for simultaneous cleaning and contaminant capture through a dual-channel optic design. For operations requiring movement between areas, our mobile carts are designed to be fully self-sufficient — often only requiring power as you move from one area to the next. And, with Adapt Laser's thorough training, you can learn how to easily and properly operate, clean, and maintain your laser solution. 
Included below is our family of laser solutions for multiple categories. But — depending on your needs — any of our laser solutions can be outfitted as handheld options. Talk to our sales team to learn more.
Need to Automate Your Cleaning Process?
Though handheld lasers can be great for projects requiring mobility and changing locations, they aren't the best choice for regular or repeated cleaning operations. Fortunately, we can customize an automated solution for your cleaning process to ensure that it's as safe, efficient, and effective as possible.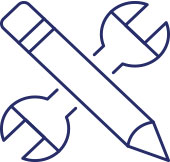 Customized Laser Solutions for Unique Needs
If your organization has a particular demand that's unique, Adapt Laser can still design an exclusive, customized cleaning solution. By working with our partner, cleanLASER, robotics companies, automation integrators, and many more, we're able to deliver custom solutions to many one-of-a-kind applications.
View Our Custom Laser Cleaning Systems