Custom Laser Cleaning Systems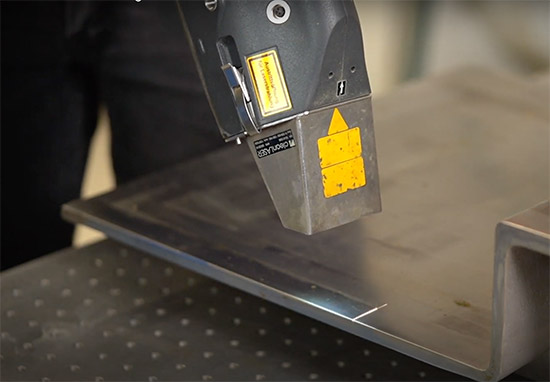 From low-power systems designed to provide powerful cleaning in small areas to high-power solutions that remove thick contaminants like rust, our laser cleaning solutions provide a range of uses for your products. That's why no two lasers are ever really the same — because they shouldn't be. Someone needing a laser for historic restoration will have different considerations and likely not need the same laser setup required for mold cleaning, and vice versa. By customizing your laser cleaning system, we can ensure you get the best cleaning laser for the job.
DESIGNING A CUSTOM LASER CLEANING SOLUTION
PROJECT SPECIFICATIONS AND REQUIREMENTS
Our custom laser solutions are built specifically for your project. To determine which application will work optimally, we'll ask you a variety of questions regarding your project and what you're looking to accomplish, including:
General size, area, and geometry of the parts needing to be cleaned
Material substrate(s)
Coating/contaminant type and thickness
Current cleaning type, rate, and cycle
Desired cleaning rate
Previous processing steps in the part lifecycle
Next steps after cleaning
Operational details surrounding the laser process
Once we know your initial requirements, we'll test your product in our lab to determine the right laser for your needs — both from a technical and operational standpoint. Our goal is to help you accomplish the desired result. To find the right laser cleaning system for your needs, contact our team to begin the sales process.
CHOOSING THE RIGHT POWER LEVEL
Our laser systems come in a variety of wattages based on your needs. These wattages are typically categorized into three different groups: low-, mid-, and high-power. But, in addition to the different categories, you have different functionality options when it comes to choosing the right laser for your needs. We offer both handheld and automatic options — including lasers designed for enclosed areas.
LOW-POWER LASER SOLUTIONS
Low-power doesn't equate to ineffective. In fact, our low-power laser solutions provide a gentle, high-precision cleaning perfect for historic restoration, de-coating, and small treatment areas. It uses short pulses of laser light and has the same intensity as other powered cleaners, but is ideal for products such as:
Historic buildings
Small automotive parts
Rubber/Injection molds
Military equipment — for bonding and welding treatments
Any application where gentle cleaning is required
Shop Low Power
MID-POWER LASER SOLUTIONS
Our mid-power laser has a quicker cleaning rate and allows for larger surface area cleaning. From mobile to stationary options, our mid-power laser solutions are beam-delivered up to 300 feet away and user-friendly. Each laser is controlled from their supporting optics system and is perfect for:
Oxide or lubricant removal prior to welding
Targeted corrosion removal on aircraft wings
Composite and tire molds
Historic restoration
Paint removal on aircraft
Shop Mid Power
HIGH-POWER LASER SOLUTIONS
From handheld to automated, our high-power laser solutions are some of the most powerful on the market and are beam delivered, allowing them to be used up to 300 feet away. The application is easy to use and features a touch-screen display and real-time controls. It safely produces larger amounts of energy per pulse of laser light, making it ideal for industrial use and:
Eliminating corrosion from metals
Hazardous coating removal
Pre-treatment of welding seams
Nuclear decontamination
Cleaning prior to NDI
Shop High Power
LASER SYSTEM COMPONENTS
When it comes to customizing specific features of a cleaning laser, we consider several components to make sure the laser is well-suited for the job. The most common include:
Fiber— our laser solutions use a fiber-fiber coupling, but the length and size of these fibers can impact beam shape
Optics — flat-top or Gaussian? 1-D or 2-D? Optics customizations can be highly specialized to meet the specific requirements for your project
Delivery system — handheld or automated? If you're performing repeated tasks or need a mobile cleaning solution, this choice can determine what kind of laser system fits your operations
Fume extraction — what fumes and particles are being produced by the cleaning? What fume extraction filter unit works well for a small rust removal project will inevitably differ from what is best for nuclear decontamination
Special functionality requirements — does your laser need additional parts customization for the project?
CUSTOMIZATION FAQS
HOW DO YOU DETERMINE THE PROPER CUSTOMIZATIONS FOR A SOLUTION?
When designing a custom laser cleaning system, we perform an initial testing step to scope if laser cleaning is well-suited for your project and what requirements the system needs. From there, we can begin integrating the considerations that will get you to your end goal.
HOW DO CUSTOMIZATIONS IMPACT THE PRICE OF THE LASER?
Customizations do add to the price of a laser cleaning solution, but how much will vary based on the complexity of features. A simple handheld laser will be much cheaper than an automated system with advanced integration options and specialized optics.
CAN YOU OPT OUT OF CERTAIN CUSTOMIZATIONS WITHOUT IMPACTING THE QUALITY OF THE CLEANING PROCESS?
Sure. While customizations can improve performance and efficiency, they are not required. We will design a laser solution suited for your needs and add customizations only as it befits the scope and needs of your project.
CAN CUSTOMIZATIONS BE ADDED LATER?
With the exception of the laser source, everything can — in theory — be modified later, including the delivery system as well as individual components. However, many customizations require the laser to be shipped back to us in order to make the alterations in the proper environment. Some customizations are also more complicated to do after the fact than in the original design, so we recommend working with one of our laser experts to make sure your cleaning laser is outfitted appropriately from the start.
Want to test your product with our laser systems?