This year, as we began to gear up for summer we realized the growing need to hire someone to assist our applications engineers with research and testing, product design and development, generating test reports, and database management. We decided to make the position a summer internship opportunity open to local high school and college students and in stepped Adapt Laser's newest employee: Reid Hulshof. Reid joins us after graduating from Blue Valley North High school as our summer intern, slated to be here through July 2022.
ABOUT REID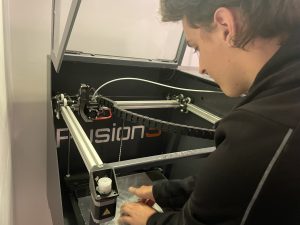 Reid isn't a stranger to the KCMO area having grown up in Overland Park, KS where he enjoys playing baseball, the occasional PC game, and hanging with his friends. He's currently splitting his time during the week between his internship here and working as a dishwasher at Brobeck's—a popular Overland Park BBQ joint.
When asked what sparked his interest in a STEM field he cited the 2018 SpaceX launch and how he couldn't tear himself away from articles and videos surrounding the project. From there, he kept up with YouTube channels including Tim Dodd's 'Everyday Astronaut' as well as taking an intro to engineering design course that taught him the basics of CAD (computer-aided-design). When COIVD hit and he had more time to dive deeper into CAD models, Reid and his friend started building model rockets at home in his parent's garage.
Reid says that the main takeaway he's looking for during his time here is to gain professional experience as well as first-hand exposure to the engineering world. Despite his large pull to aerospace, Reid says that he's actually looking at pursuing a mechanical engineering degree in hopes to work for an aerospace company, like SpaceX, where he could help design and build the engines for the rockets. He's currently looking at either staying home and attending Johnson County Community College or the University of Kansas or may decide to go out-of-state to Arizona State University.
ADAPT'S COMMITMENT TO EDUCATION & TRAINING
Our engineering, service, and sales teams are all well versed in educating others on laser systems and how to safely operate and maintain them. We offer on-site training to our customers that's comprehensive and includes certifications as well as laser safety operator badges for each participant upon completion.
We also offer refresher courses for any facility training new employees as well as a "train the trainer" course where the goal is to have an employee so proficient, that they can then teach the course to future operators.
Certified Laser Safety Officer (CLSO)
In order to properly train all of our employees on the basics of laser safety, we have our own certified laser safety officer (CLSO) on-site. The Board of Laser Safety is in charge of providing certifications to laser professionals who agree to adhere to high standards of safety and professional practice. Our CLSO, Tyler O'Neill, is one of only 150 active certified laser safety officers in the the US and is in charge of training all Adapt Laser team members on how to safely operate a laser system.

WHATEVER YOUR NEEDS, ADAPT LASER HAS THE SOLUTION FOR IT
Adapt Laser specializes in providing the highest-quality laser cleaning systems available. Our systems come in both handheld and automated options making them versatile for different applications and surface preparation. We offer formal laser operations and safety training to ensure both you and your employees get the most out of their laser cleaning system. Over the past 15 years we have equipped numerous companies across varying industries with our state-of-the-art laser cleaning solutions.
If you're looking for a faster, totally unique industrial cleaning and coating removal process, contact us today or call (816) 466-5855 to find the right laser cleaning system for you.
Like us on Facebook, connect with us on LinkedIn, and subscribe to us on YouTube