Laser Cleaning Job Shop Services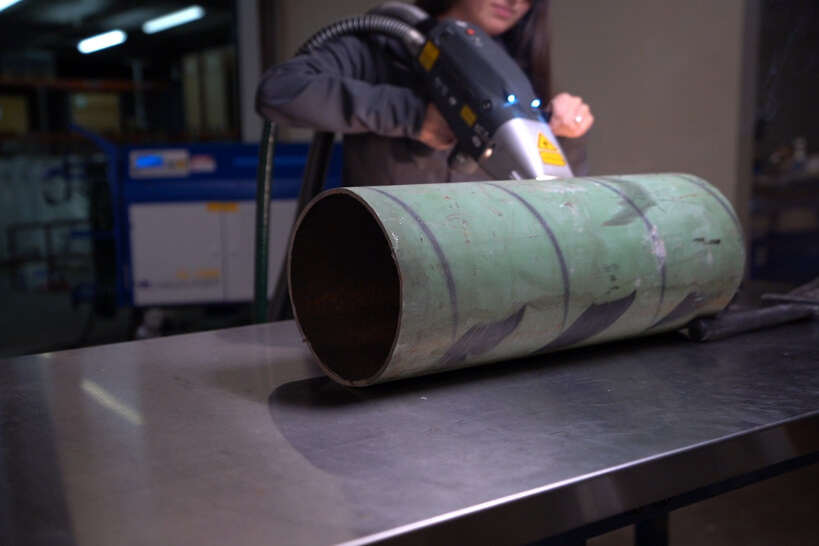 Laser cleaning has extremely low operating costs, but not every project can keep a laser solution busy enough to justify a full purchase of one of our units. For instance, some parts or components may only need treatment once or twice a year. In these cases, investing in a custom laser cleaning system isn't always fiscally responsible — or possible. But, that doesn't mean you have to turn to cheaper alternatives for cleaning your product. Our laser cleaning job shop allows you to outsource your cleaning needs for those cases when you need the benefits of laser cleaning without the cost of purchasing and maintaining a unit.
State-of-the-Art Laser Ablation, Tailored to Your Needs
Our laser cleaning job shop allows you to keep doing what you do best — delivering high-quality products for your industry. Equipped with the best in modern laser ablation technology as well as automated cells and robotic systems, our experienced team of laser cleaning experts will ensure that your parts are cleaned with the utmost precision. If you'd like to experience the benefits of laser cleaning but don't have the operational needs to justify purchasing a solution, contact us today and see if our laser cleaning job shop can benefit you and your team.
What applications are best suited for laser cleaning?
Our cleaning lasers are a perfect solution for almost all metals and several non-metals. Since no cleaning project is exactly alike, our laser experts will craft a laser cleaning solution that meets the specific parameters of your application. This ensures the highest level of part quality and cleanliness. By developing the right process beforehand, your parts will experience a longer life cycle, increased bonding capability, and stronger corrosion resistance. Our solutions are designed to integrate into your operation so that you can achieve the best results possible without taking your focus off of providing high quality products for your industry.
HOW OUR LASER CLEANING JOB SHOP WORKS
STEP 1: UNDERSTANDING YOUR OPERATION
Before we can craft the ideal cleaning solution for your team, we first need to understand your operation. After discussing the details of your project, we can then determine if our laser cleaning job shop is a suitable solution for your needs.
Whether you need parts and components cleaned or select areas for secondary processes, we will work together to craft the right laser cleaning setup for your application.
STEP 2: CREATING A LASER CLEANING SOLUTION
Once we understand your operational needs, we can determine the right laser solution for the job. At this point we will also determine the logistics of your project, such as the transportation needs of your products, volume requirements, and timeframe. Once these details have been settled, we will quote the solution needed for your operation.
STEP 3: INTEGRATING ADAPT LASER INTO YOUR PROCESS
Our laser cleaning job shop goes beyond merely outsourcing your parts cleaning. We work with you to integrate our laser cleaning services into your operations — allowing you to continue providing products for your industry without unnecessary bottlenecks in the manufacturing process.
Once we've voided your product of all contaminants, we'll return your product to your facilities. You can expect that your product will run smoother, operate more efficiently, and produce a stronger bond than it would have before. That's because our laser solutions remove surface contaminants without impacting the substrate or leaving a residue behind — unlike other cleaning methods.
BENEFITS OF OUR LASER CLEANING JOB SHOP
Laser cleaning is one of the safest, most effective, and environmentally-friendly methods for removing contaminants. In many cases, it cleans up to 15 times faster than other alternatives. But, investing in your own laser isn't the right choice for every business. That's why our laser cleaning job shop:
Entrusts parts cleaning to experts
Allows you to focus on production
Streamlines cleaning process
Eliminates the need for trained operators
Mitigates the need for a long-term investment
Looking to outsource your parts cleaning?
If you need parts or components cleaned, but don't have the business case to purchase a laser system, our laser cleaning job shop can help. Tell us about your operation, and we'll be happy to get the process moving swiftly.