Since opening our doors at our Kansas City location, we've invited customers to come and do an on-site visit to our applications lab as a first step to purchasing a laser cleaning system. When COVID-19 limited travel and forced many companies to close their doors to the public, we knew we had to quickly implement a new process as an alternative to these in-person visits. Now, whether you are travel restricted due to COVID-19, geographical location, or something else—our virtual lab demonstrations have you covered. Take part in a live, fully interactive laser cleaning demonstration with our in-house application engineer guiding you through it.
BENEFITS
No travel necessary
Ask questions specific to your materials, products, and contaminants
COVID-19 friendly
Accessible for larger teams and groups
See safety practices in real time
Interactive feedback
View side-by-side comparisons of different laser systems on your product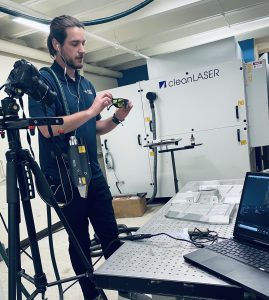 VIRTUAL LAB DEMONSTRATION STEPS
CONTACT OUR SALES TEAM
The first step is to simply contact our sales team to determine that laser cleaning is the right fit for your company. Once we understand your application and challenges, we will want to do testing to see what laser–low, mid, or high-powered, will work best to suit your needs.
SUBMIT APPLICATIONS FORM
After a customer sends in their specific pieces of equipment, product, or material to be ablated, we take it back to our lab and begin initial testing. The applications lab and sales-team work hand-in-hand to determine which laser process and system that meet your cycle time expectations or quality needs.
LIVE VIRTUAL LAB DEMONSTRATION
Schedule a time and date that's convenient for you and your team to see our application testing first-hand on your product. Our virtual lab setup includes multiple 4k high-definition cameras with one view of the laser ablation process on the product and a second camera focused on our applications engineer and sales team. They guide you through the demonstration, describing the process, equipment, safety procedures, while giving you time to ask questions as they come up.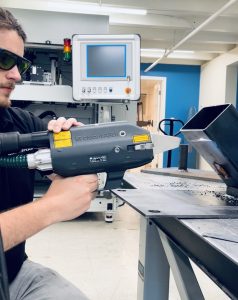 PERFORM YOUR OWN COST-BENEFIT ANALYSIS
A laser cleaning system is a major investment so we want to ensure that before you finalize your purchase, you have a complete understanding of the system and how it will help your bottom line. Our sales team can help answer any financial or logistical questions you may have regarding the purchase of a laser system.
WHATEVER YOUR NEEDS, ADAPT HAS A SOLUTION FOR IT
We specialize in the know-how and application of laser cleaning solutions, which range between 20 and 2,000 watts. We also provide training to ensure your employees can get the most from their laser cleaning solutions. We've equipped a variety of industries and companies with our state-of-the-art laser cleaning solutions, and our team of laser cleaning experts is committed to finding the perfect solution for your needs.
Contact us today or call (816) 466-5855 to find the right laser cleaning solution for you.