When deciding whether or not you want to purchase a laser cleaning solution, you're likely to do research. During that research, you may learn about different jargon that comes with the territory. This includes terms such as pulses, optics, and intensity. While it's easier to connect some words — like pulses — with their normal meaning, words like intensity can mean something a little different. What is intensity, and how does it impact your laser solutions?
WHAT IS LASER INTENSITY?
Typically, the word intensity refers to measurable energy, concentration, and strength of something. When referenced in regards to laser cleaning solutions, intensity is a mathematical relationship between power per pulse and the beam spot size. It's related to the energy needed to remove contaminants while considering the damage threshold.
Each product has its own unique damage threshold. This line determines whether the substrate of the product will be impacted by the intensity of the laser. When the desired result is a pristine surface, the damage threshold is not crossed. But, should surface roughening be desired, a laser solution can penetrate that threshold to create the surface needed.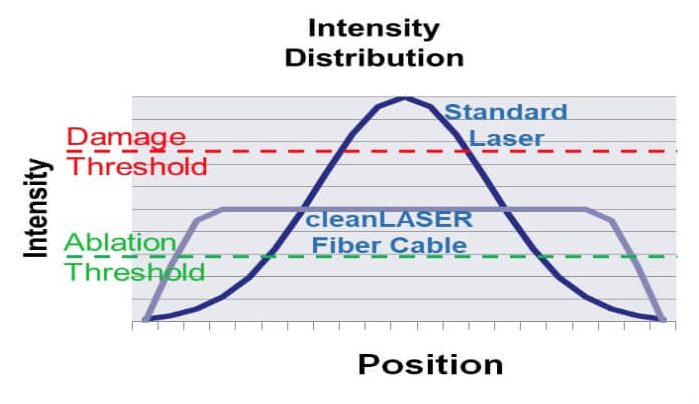 3 WAYS INTENSITY IMPACTS YOUR LASER SOLUTION
1. ABLATION THRESHOLD
From ceramic molds to metal car frames, the intensity used to clean your product will vary. The intensity level — considering the mathematical relationship — has several dynamics to it. Not only can we increase/decrease the power per pulse (the pulse frequency or variation in laser power/pulsing), but we can adjust the beam spot size using optics, focus packages, and more, and change our scanning — which stacks up the pulses on top of each other or spreads them apart.
By doing these three things, we can determine how to best get the ablation threshold. This state is where we can remove the contaminants. And, depending on the contaminants, different combinations can sometimes be done with specific setups to get the desired results.
2. DAMAGE THRESHOLD
The damage threshold is unique to each part requiring cleaning. Whether you have an aircraft, aluminum tool, or structure of an automobile — despite all being made from aluminum — they are all unique when it comes to removing contaminants. Each product has a unique nature that may need to be avoided or interacted with purposely depending on the threshold. The only way to determine what your product needs are by testing it in our on-site lab.
3. CLEANING RATE
Your beam spot size — among other variables — determines the surface area that you can remove contaminants. A wider beam spot size covers more area, but the intensity is what impacts the effectiveness of the beam. If you know what the ablation and damage threshold are, you can increase the power per pulse and the beam spot size by roughly the same amount while maintaining the intensity. Doing so also helps you clean at a quicker rate.
COMMONLY ASKED QUESTIONS
HOW WIDE IS THE BEAM? CAN WE MAKE IT WIDER?
The 1-D scanner beam goes all the way from a spot to almost four inches. When you look and see a beam/line, it's many pulses go back and forth, creating the line. If you want a wider beam, it's technically possible, but to move the larger line that is desired forward and backwards to clean an area, you have to go much slower or use a 2-D scanner — which scans a larger area. In the end, you're not gaining anything by making the beam wider because the cleaning rate will remain the same no matter how wide you scan the beam.
WHY CAN'T YOU TELL ME EXACTLY WHICH LASER IS BEST WITHOUT TESTING?
While we may have seen similar examples, each application has its own intricacies and variables. We want to ensure that the technology we provide does the necessary job thoroughly and successfully. Testing allows us to recommend and custom-create the very best cleaning solution for you.
HOW QUICKLY WILL YOU TEST MY ITEMS?
Typically, we're able to test parts within approximately two weeks after we've received them. We'll remain transparent throughout the process and keep you updated on the status of your items.
WHATEVER YOUR NEEDS, ADAPT LASER HAS A SOLUTION FOR IT
Adapt Laser specializes in the know-how and application of laser cleaning solutions. We offer products with a range between 20 and 2,000 watts and provide training to ensure your employees can get the most from their laser cleaning solutions. We've equipped a variety of industries and companies with laser cleaning solutions — including military and defense for the US Air Force and Navy — and hundreds of organizations trust our state-of-the-art laser cleaning solutions.
Contact us today or call (816) 466-5855 to find the right laser cleaning solution for you.