From metal to non-metal products alike, the lifespan of your appliances can be impacted by the layers that coat them, and the methods used to clean them. This is especially true if you've been using media blasting options — such as plastic media blasting and sandblasting. That's because abrasive cleaning methods can damage the substrate of your products in the process of removing surface materials. Unlike these media alternatives, laser solutions cut through to the surface material without impacting the integrity of the substrate. But, how can this extend the lifespan of your products?
3 WAYS LASERS EXTEND THE LIFESPAN OF YOUR PRODUCTS
1. THE SUBSTRATE ISN'T HARMED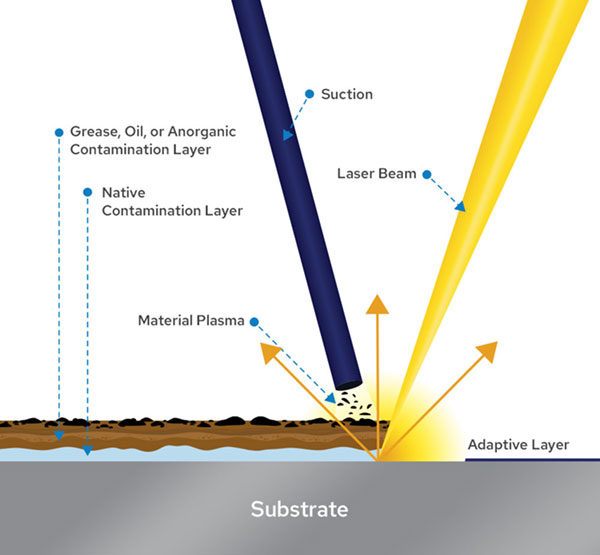 Laser ablation works by using thousands of pulses per second to absorb into and remove contaminants. With the right settings and equipment, the laser light penetrates to the surface material but doesn't harm the substrate — unless otherwise desired. Attached to the laser solution is a vacuum that suctions the contaminants as they're removed. This vacuum allows you to safely and properly dispose of hazardous coatings and other contaminants that could be harmful to your operators.
When using other cleaning alternatives, the substrate can become warped and weakened. Sometimes, the media can create holes in the substrate, which can create pockets for contaminants to hide and become difficult to clean properly. With laser solutions, you protect the substrate and keep it in pristine condition — allowing you to use your product for years to come.
2. DAMAGING CONTAMINANTS ARE REMOVED
If your product is made of metal, then contaminant oxide layers will always be a threat to its lifespan. And, if your appliances are made from metals that contain iron — such as iron, cast iron, wrought iron, or steel — then rust is only one chemical reaction away from corroding your product. But, the appearance of rust doesn't have to mean the end to your product.
Laser solutions remove rust and other corroding contaminants to help lengthen your product's lifespan. While the laser technology can't return your appliance to brand new, it can stall the breaking down of your product. Corrosion — if left untreated — can also weaken your product, and laser cleaning would mitigate that risk.
3. REMOVE RESIDUES PRE-WELD
Unlike media blasting options, plasma treatment is often used as a safer alternative for cleaning. While this option may appear like the right choice, plasma treatment can leave a thin layer behind — which impacts welds and bonds. This thin layer can impact the joint over time and allow contaminants to creep in and grow.
Laser solutions don't leave anything but the substrate behind. This means that you'll have a clean slate for pre- and post-weld projects. And, your joints will be stronger because there are no other contaminants impacting the connection.
COMMON LASER SOLUTION QUESTIONS
IS THIS TECHNOLOGY SUITABLE FOR HISTORIC CONSERVATION/RESTORATION?
Yes, but this all depends on the substrate material and contaminant/coating. Our laser cleaning solutions have been used for both historic conservation and restoration — this has included the US Capitol building, the Canadian Parliament building with environmental staining, and others. Our solutions have also cleaned the pyramids.
IS THIS THE SAME AS A CUTTING LASER?
No, our lasers are extremely different. Laser cleaning offers pulses of light, whereas cutting lasers are a constant, focused light that cuts or breaks through products. There are many equipment, application, and safety differences due to the nature of these disparities.
HOW LONG IS YOUR WARRANTY? WHAT DOES IT COVER?
Our manufacturer's warranty lasts for one year. It starts after we install the equipment and covers everything except optics and umbilicals — this is because these items are susceptible to damage rather than manufacturing issues.
WHAT ENVIRONMENTS ARE SUITABLE FOR THE LASER SYSTEM?
There are temperature envelopes and humidity working envelopes, but we can adjust any laser configuration to function in areas with environmental extremities. If you have any concerns about environmental factors, you should introduce them during our sales process to ensure you get the right laser for your needs.
WHATEVER YOUR NEEDS, ADAPT LASER HAS A SOLUTION FOR IT
Adapt Laser specializes in the know-how and application of laser cleaning solutions. We offer products with a range between 20 and 1,600 watts and provide training to ensure your employees can get the most from their laser cleaning solutions. We've equipped a variety of industries and companies with laser cleaning solutions — including military and defense for the US Airforce and Navy — and hundreds of organizations trust our state-of-the-art laser cleaning solutions.
Contact us today or call (816) 466-5855 to find the right laser cleaning solution for you.