Typically, laser solutions absorb and remove contaminants that are impacting the efficiency, functionality, and lifespan of your product. They can also be used for pre- and post-weld treatments, hazardous coating removals, and more. But, can a laser that's designed to provide a pristinely-cleaned surface area also roughen it? The answer is, yes, but with stipulations. How does it work, and when is surface roughening appropriate?
HOW DOES LASER CLEANING WORK?
Regardless of whether you use an automated or handheld option, laser ablation works by using thousands of laser pulses per second to absorb and remove contaminants. In most situations, it cleans the surface without damaging the substrate. But, when used for surface roughening, the laser is adjusted for a slightly different result.
By tweaking the beam shape and intensity of a high-powered laser, the damage threshold of your product will be crossed to create some slight surface roughening. This intricate process causes calculated damage, but only to the top-most layers — avoiding any critical or lifespan damage to the product. As a result, micro melting occurs, and the surface is prepared for your needs.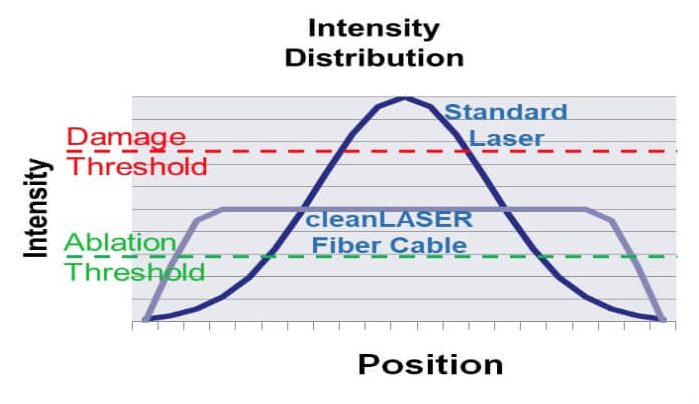 USES FOR SURFACE ROUGHENING
While damaging the substrate of your product is typically seen as a bad thing, there are some situations where it must be done. The biggest reason for surface roughening is bonding preparation. By melting the top-most layers, you can create a desirable surface area for bonding. As the surface solidifies, it binds the two pieces together — creating a strong, single piece. When used for bonding or coating materials, two properties can occur — mechanical and chemical. Because the laser is so clean, it creates an extremely strong chemical reaction.
WHAT MATERIALS CAN BE ROUGHENED?
Similar to how not all products can be cleaned with laser solutions, the same can be said for surface roughening. Surfaces made from wood have a lower damage threshold, and wouldn't be ideal for bonding. While certain composites can be roughened, others — like Aerospace composites — typically have a top-layer that is too translucent, and the laser would do too much damage. That's why the ideal surface materials are:
Lightweight metals — such as aluminum and magnesium
Plastics
Glass fiber composites
WHATEVER YOUR NEEDS, ADAPT LASER HAS A SOLUTION FOR IT
Adapt Laser specializes in the know-how and application of laser cleaning solutions. We offer products with a range between 20 and 1,600 watts and provide training to ensure your employees can get the most from their laser cleaning solutions. We've equipped a variety of industries and companies with laser cleaning solutions — including military and defense for the US Airforce and Navy — and hundreds of organizations trust our state-of-the-art laser cleaning solutions.
Contact us today or call (816) 466-5855 to find the right laser cleaning solution for you.