Our variety of powerful, highly dynamic optics all come integrated with scanning systems that allow for both handheld and automated applications. Because the optics ablate by distributing thousands of powerful pulses onto the substrate's surface to sublimate the contaminant(s), it's extremely important to use the correct optic for an effective clean as well as to prevent harm to the substrate, the operator, or the environment. Our optics can be categorized in three ways: handheld, automated, and specialized/custom optics.
HANDHELD VS AUTOMATED OPTICS
WHY USE A HANDHELD OPTIC?
All of our handheld optics are one-dimensional with compact designs and nozzle attachments that make them ideal for manual applications. These may include applications like paint removal, rust removal, or historic conservation on parts that have smaller surface areas or more complex geometries.
Read more about our handheld optics here.
WHY USE AN AUTOMATED OPTIC?
Our automated optics are designed to offer a more standardized, consistent clean especially on parts with larger surface areas or when there are multiples of the same part. The OSA20 and OSA70 are our 1D automated optics for low and mid power systems and are ideal for coating removal, mold cleaning, and welding/bonding applications. The STAMP series optics are designed for low, mid, and high power systems and are our collection of 2D, automated optics that provide unmatched precision and uniformity during cleaning.
OSA 20
Identical in design to the OSH20 optic, the OSA20 was created for use on low power, automated systems. This compact optic is designed to have a small spot size that works well for precision cleaning and other applications that don't require multiple parts or parts with large surface areas.

Designed for low power systems including the CL50, CL100 lightCASE, and CL200G
Ideal for applications including: mold cleaning, pre-weld treatments, pre-adhesion, and light rust removal
24/7 operating capability
Interchangeable focal lengths
Multiple mounting screws

OSA70
The OSA70 is designed to be the automated version of the OSH50, and is a great multi-functional optic capable of repeatable, concise cleans.
Due to their ability to clean large surface areas so quickly and efficiently, many manufacturers are starting to integrate automated laser cleaning systems into their production lines. The OSA70 is equipped with numerous mounting adaptors that allow it to be connected and fully integrated to an industrial robotic system or mounted on a fixed console. These are especially popular in the automotive and aerospace industries, where parts are being cleaned, in-line, 24/7.
Designed for mid power systems including the CL300, CL500, and CL600
Ideal for applications including: pre-weld treatments, pre-bond, large area paint removal, and mold cleaning
Interchangeable nozzles and attachment options
Quick-change device for protection window
Variable focal lengths
---
2D STAMP SERIES
"FOR EXACT CONSISTENCY IN LASER CLEANING—EVERYTIME"
Our 2D stamp optics are available for all power classes—low, mid, and high power—and includes the stamp optics: STAMP 10, STAMP 14, and STAMP30.
The 2D refers to the two-dimensional X and Y scanning pattern that creates the perfect overlap as it moves the optic left to right and forward to backward during the ablation process. This kind of control is unparalleled by 1D optics and is ideal for applications that require an extreme amount of precision and uniformity.
Variable focal lengths and lens sizes
Deflection speeds of the beam are up to 50 m/s—scanning system dependent
Temperature and dynamic sensors for function monitoring
Quick-change protective glass
Mirrors and deflection systems for variable processing from different directions
3D extension for automatic focus positioning in the range of up to +/-30% of focal length
Cross-Jet systems for flushing or protecting the protective glass
STAMP 10
Designed for low power laser cleaning systems, like: CL50, CL100, and CL200
Ideal for applications including: pre-weld treatment, post-weld treatment, mold cleaning, adhesive bonding, PVD coating removal, and etching/engraving
SNAP-L System for Lockheed Martin
Duckhead Optic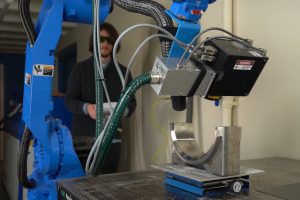 STAMP 14
Designed for mid power laser cleaning systems, like: CL150, CL300, and CL500
Ideal for applications including: Same applications as the STAMP 10, but with larger surface areas
STAMP 30
-Designed for mid power laser cleaning systems, like: CL500 and CL600
-Ideal for applications including: Mold cleaning, post-weld treatment with silica removal, adhesive pretreatment of light metals, paint stripping and decoating, and selective layer removal

WHATEVER YOUR NEEDS, ADAPT LASER HAS THE SOLUTION FOR IT
Adapt Laser specializes in providing the highest-quality laser cleaning systems available. Our systems come in both handheld and automated options making them versatile for different applications and surface preparation. We offer formal laser operations and safety training to ensure both you and your employees get the most out of their laser cleaning system. Over the past 15 years we have equipped numerous companies across varying industries with our state-of-the-art laser cleaning solutions.
If you're looking for a faster, totally unique industrial cleaning and coating removal process, contact us today or call (816) 466-5855 to find the right laser cleaning system for you.
Like us on Facebook, connect with us on LinkedIn, and subscribe to us on YouTube