streamLINE
"The Ultra-Compact Laser Cleaning System"
streamLINE is our newest laser designed for flexible surface cleaning applications. The system is available in four power classes with up to 300W of laser power. This makes it the smallest and most powerful, fully air-cooled portable laser currently on the market.
The system can be remotely connected via WiFi using the user-friendly cleanTOUCH operating display. The processing optics directly operate and configure the system using industrial-grade integrated haptic buttons and rotary knobs—meaning no separate operating device is required.
FEATURES
streamLINE is available with a FFC fiber coupler enabling beam homogenization and a fiber optic cable up to 10m in length.
Beam homogenization allows for very sensitive surfaces like tools and molds for aerospace components to be cleaned in a gentle, damage-free way.
This beam control can be used for all power classes making the 300W laser the most powerful air-cooled compact laser for manual cleaning applications.
PROCESSING OPTICS
OSH20
Designed for low power systems
Compact head-size
Interchangeable focal lengths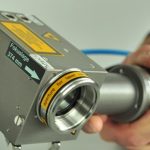 OSH50
Ergonomically-friendly, lightweight housing
Focal length of 130-160mm
Integrated water cooling
Assortment of interchangeable nozzles
BENEFITS
Complete turn-key system for manual processing available in four power variants from 50-300W
Designed to be robust and lightweight with an aluminum base and plastic housing
Integrated signal lights illuminate when the laser is operating
The powerful, high-brilliance beam source made in Germany ensures high removal efficiency and reliability
Typical applications for this system include:

cleaning, decoating, restoration, joining pre-treatment, and pre and post weld treatment of weld seams

TECHNICAL INFORMATION

Laser Equipment: Air-cooled laser beam source; Also available with FFC homogenized beam source
Optics Equipment: OSH20 (CL100, CL200) and OSH50 (CL300)
Cable Length: 3m; With FFC up to 10m
Dimensions: 570 x 885 x 395 mm³
Laser Power: 50, 100, 200, or 300W options
WANT TO LEARN MORE ABOUT LASER CLEANING?
Adapt Laser specializes in providing the highest-quality laser cleaning systems available. Our systems come in both handheld and automated options making them versatile for different coating removal applications and surface preparation. We offer formal laser operations and safety training to ensure both you and your employees get the most out of the laser cleaning system. Our headquarters is in Kansas City, MO but we have sales managers across the country who can travel to your facility for an on-site demo. Over the past 16 years we have equipped numerous companies across varying industries with our state-of-the-art laser cleaning systems.
If you're looking for a faster, totally unique industrial cleaning and coating removal process, contact us today or call (816) 466-5855 to find the right laser cleaning system for your application.
Like us on Facebook, connect with us on LinkedIn, and subscribe to us on YouTube