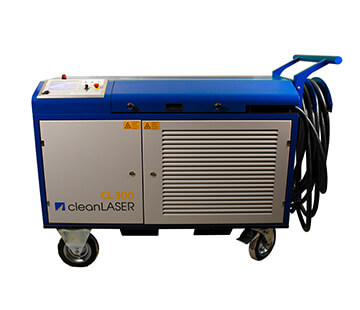 Our state-of-the-art powerful Laser System CL300 is perfect to clean composite and tire molds, remove oxides in automated applications, general surface cleaning, historic restoration, and paint removal on aircraft.
The unit has an ultra compact, full metal enclosure designed for mobility and a wide range of applications.
The CL300 comes with handheld or fixed optics, connected to the laser by a flexible 30ft fiber-optic cable. It produces a high-quality laser beam with a maximum output of up to 250kW per pulse, a beam width of up to three inches, and a focal distance of five to ten inches.