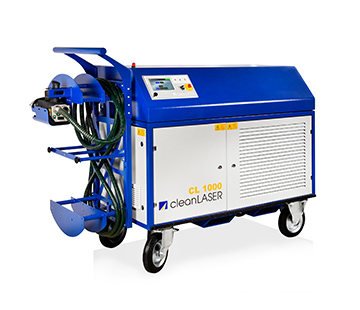 Our laser system CL1000 is one of the most powerful handheld lasers on the market. It thoroughly eliminates rust, hazardous coatings, and corrosion from metal components fast, without altering the substrate or without leaving any waste behind.
The laser is so effective that the United States Air Force and Navy use it to remove corrosion from their equipment. It works efficiently as a handheld laser solution, but can also be integrated into robotics. And, the larger power per pulse allows for one of our quickest cleaning rates.
SUPPORTING OPTICS
CL1000 FEATURES
Powerful laser with up to a 1,000-watt beam source power (CW) with unchanged dimensions (water-cooled system)
High performance, especially for large-area applications with thicker layers
Ergonomic optics and high beam quality of the laser in combination with a consistent top hat beam shape provide incomparable power with higher speeds during material decoating
Fiber length up to 300 feet
Integrated chilling, self-diagnostics, optional beam switch, quick-swap fiber options, and remote support capability
CUSTOMIZED LASER SOLUTIONS FOR UNIQUE NEEDS
If your organization has a particular demand that's unique within your industry, Adapt Laser can design an exclusive, customized cleaning application that fits your needs. We do this by working with multiple robotic options and automation integrators, as well as teaming up with one of our partner companies to build-to-order your laser solution. So, you can use our products with the confidence that what you have is the best laser solution for the job.