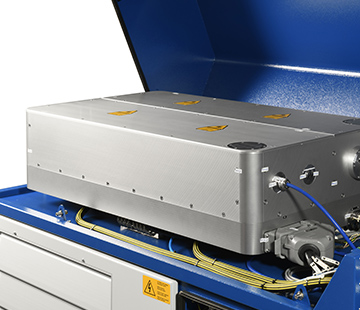 Common Uses
Large paint area removal
Rust removal
Decontamination of nuclear-contaminated surfaces
Pre-cleaning for paint
Contact Us To Learn More
The CL2000 is one of the most powerful laser solutions available — surpassing the CL1000 — with an average of 1600 watts. It comes as an automated or handheld option, and the diode-pumped laser module makes it an almost maintenance-free system. From eliminating corrosion from metal to removing hazardous coatings, the CL2000 absorbs and removes contaminants quickly and effectively without altering the substrate or leaving any waste behind. Plus, its high-power makes it an ideal solution for the military, aerospace, and energy industries.
Supporting Optics
OSH 70
OSH 80
Stamp 2-D Optics
CL2000 Features
Power enhanced version of the CL1000 with up to a 1600 Watt beam source power (CW) with unchanged dimensions (water-cooled system)
High performance, especially for large-area applications with thicker layers
Ergonomic optics and high beam quality of the laser in combination with a consistent "top hat" beam distribution provide incomparable power with higher speeds during material decorating
Gentle and an alternative process at the same time
The CL2000 is a newer product from cleanLASER — which accumulates more than 20 years of laser expertise and the highest quality made in Germany
Customized Laser Solutions for Unique Needs
If your organization has a particular demand that's unique within your industry, Adapt Laser can design an exclusive, customized cleaning application that fits your needs. We do this by working with multiple robotic options and automation integrators, as well as teaming up with one of our partner companies to build-to-order your laser solution. So, you can use our products with the confidence that what you have is the best laser solution for the job.