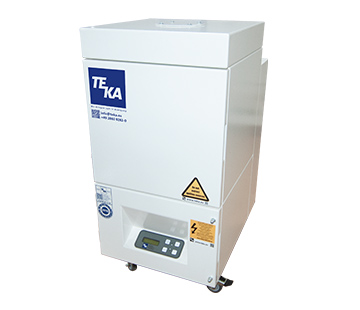 The LMD 508 is a cart-type portable fume and particle extractor with maintenance-free high-performance turbines, a replaceable high-efficiency particulate air filter (HEPA), and an additional activated carbon filter. The unit includes two pre-filters for maximum performance and increases the service life for the HEPA filters. Additional bag-type filter inserts are available for sticky fumes caused by cutting acrylics and plywood.
The unit is equipped with a digital filter monitoring system, adjustable turbine speed, full turbine protection, and an easy to change filter system. Separate filters for particles and fumes are included to keep filter replacement costs low.
The LMD 508 is available with an exhaust muffler that allows this powerful unit to operate with outstanding performance at low noise levels. An adapter plate for discharge air operations is also available.
Contact Us To Purchase
Max volumetric flow of the fan (CFM)

Pre-filter matting and activated carbon

Particle filter HEPA or ULPA

Power Frequency of Control (Hz)

Separation Efficiency (%)
Product Documentation