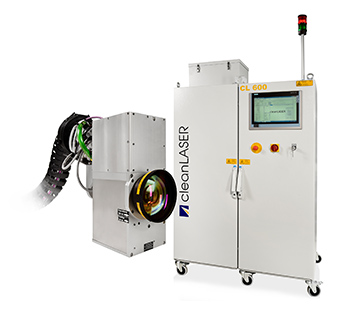 Our CL600 laser cleans tools, molds, and other valuable surfaces while eliminating residues, paints, coatings, and contaminants. It's ideal for in-line oxide or lubricant removal prior to welding in the automotive industry. It's almost identical to the CL500 but offers 20% more power and is 2x faster than the CL300.
The CL600 can be built as a handheld option for maximum mobility or integrated seamlessly as a robotic option. It's the best mid-power laser solution for pre-weld cleaning and mold cleaning. From quick-swap features to different sensor packages, you can customize your CL600 to fit your exact needs. And, you can always count on your laser to deliver a pristine cleaning without sacrificing the integrity of your substrate.
SUPPORTING OPTICS
OSA70
OSH50
Stamp 2-D
Effiscan
Custom optics available
CL600 FEATURES
Flat-top beam shape for precision cleaning
Pulse power of up to 600kW
Diode-pumped solid-state laser
Self-contained, air-water chiller in mobile units
Fiber length up to 300ft
Available in stationary and mobile units
Easy integration into the production line
CUSTOMIZED LASER SOLUTIONS FOR UNIQUE NEEDS
If your organization has a particular demand that's unique within your industry, Adapt Laser can design an exclusive, customized cleaning application that fits your needs. We do this by working with multiple robotic options and automation integrators, as well as teaming up with one of our partner companies to build-to-order your laser solution. So, you can use our products with the confidence that what you have is the best laser solution for the job.