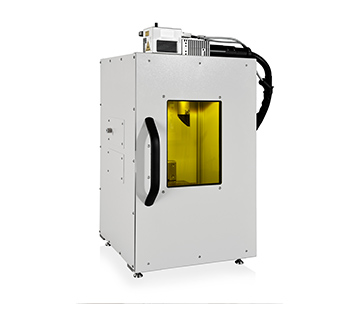 The SafeBOX is a class 1 enclosure for small area laser cleanings and demonstrations. It's compact, has flexibility via 2-D optic installation, and it can be easily integrated with our low power systems.
The SafeBox cleaning processing cell also has a laser safety window so you can view the cleaning process as it occurs without the need for safety glasses or other protective equipment. It's the ideal solution for small area cleanings and coating removals — often needed during lab testing or small batch processing.
SAFEBOX FEATURES
Inexpensive, entry-level processing cell
Manual Z-axis focal module
Compact housing for safe laser processing
SAFEBOX DIMENSIONS
Dimensions of Enclosure (in inches): 15W x 19L x 25H
Work Space (square inches): 10 x 10
Weight: 20 lbs
Laser Equipment: Low Power
Number of Axes: 0
Axis Types: N/A
CUSTOMIZED LASER SOLUTIONS FOR UNIQUE NEEDS
If your organization has a particular demand that's unique within your industry, Adapt Laser can design an exclusive, customized cleaning application that fits your needs. We do this by working with multiple robotic options and automation integrators, as well as teaming up with one of our partner companies to build-to-order your laser solution. So, you can use our products with the confidence that what you have is the best laser solution for the job.