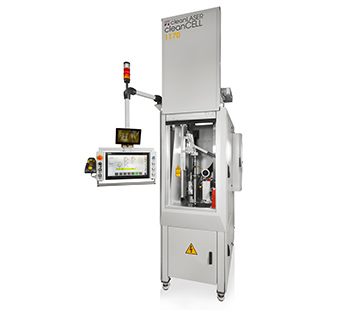 CleanCell 1170 is ideal for surface processing, adhesive pre-treatment, pre- and post-welding treatment, paint stripping from metallic surfaces, partial paint stripping, delamination, surface modification, and cleaning tools. It encloses your product for a quiet and safe cleaning process.
The machine can be loaded manually or automatically, and it has the option of a customer-specific lateral opening. In addition, it has a user-friendly touch screen and dual-loading drawers to ensure optimal efficiency.
CLEANCELL 1170 FEATURES
Compact, steel frame
Air cooling
Touchscreen operation
Customization options including: conveyors, enclosure, light-safe barriers, rotation elements, multiple vision, sensors, and more
Support for more than 10 languages
Automatic path generation available through CAD-CAM processor
Rotary drawers for continuous cleaning
High-performance Siemens servo drives
CLEANCELL 1170 DIMENSIONS
Dimensions of Enclosure (in inches): 33W x 70L x 87H
Laser Equipment: Low Power
Number of Axes: 4
Work Space (in inches): 23 x 14 x 9
Weight: 1,984 lbs
Axis Types: Spindle, H-Portal
CUSTOMIZED LASER SOLUTIONS FOR UNIQUE NEEDS
If your organization has a particular demand that's unique within your industry, Adapt Laser can design an exclusive, customized cleaning application that fits your needs. We do this by working with multiple robotic options and automation integrators, as well as teaming up with one of our partner companies to build-to-order your laser solution. So, you can use our products with the confidence that what you have is the best laser solution for the job.