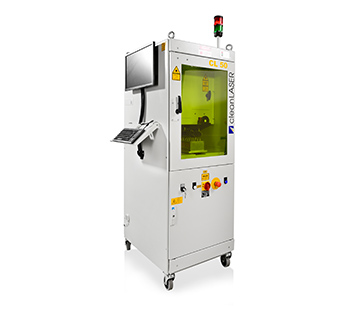 CompactCELL achieves the most thorough clean of your components — especially smaller items, such as hardware. Similar to other processing cells, the CompactCELL can be operated without the need for laser safety equipment or add ons due to its designed Class 1 safety enclosure. This allows you to watch the laser ablation process in real-time.
Designed for semi-automation, it's easy to use. CompactCell can be customized for repeatable application cleaning. This makes it simple to get the same high-quality results time after time again.
COMPACTCELL FEATURES
Compact, steel frame
Touchscreen operation
Customization options — including axis adjustments, additional integrations, and more
Support for more than 10 languages
cleanSTUDIO graphical control software
COMPACTCELL DIMENSIONS
Dimensions of Enclosure (in inches): 24W x 32L x 65H
Laser Equipment: Low Power
Work Space (in inches): 14 x 6.5
Weight: 750 lbs
Number of Axes: 1
Axis Types: Linear
CUSTOMIZED LASER SOLUTIONS FOR UNIQUE NEEDS
If your organization has a particular demand that's unique within your industry, Adapt Laser can design an exclusive, customized cleaning application that fits your needs. We do this by working with multiple robotic options and automation integrators, as well as teaming up with one of our partner companies to build-to-order your laser solution. So, you can use our products with the confidence that what you have is the best laser solution for the job.