WARRIOR EAST EXPO
WHAT: The Defense Industry's Top Expo | For Networking, Training, And Product Demos
WHERE: Virginia Beach Convention Center—Virginia Beach, VA—Booth #: 1424
WHEN: June 22-23rd, 2022
PRESENTED BY: ADS Inc
Warrior East Expo is designed to equip the warfighter with advanced capabilities to optimize performance and improve readiness, while increasing lethality and survivability. For two days Warrior attendees will enjoy a crash course in training and preparing the modern warfighter.
ADS Inc is an outfitter for the Navy SEALs, managing over 3,000 supplier partnerships and over 50,000 products of military gear and tactical equipment.
HOW TO ATTEND
Warrior East Expo is not open to the public. Qualified attendees include active duty military, federal/state/local government agencies, law enforcement and first responders who can all register here. Admission is free to these qualified persons.
The show offers the chance to get hands-on experience with the latest products to help you complete your mission. Learn from industry experts about how the newest gear and equipment can help provide solutions to critical challenges. Whether you're a program manager, procurement specialist, or end-user, the key to success is staying ahead of the curve through training and continuing education courses. Warrior East offers courses delivered by experts and others with first-hand experience in war-time readiness.
Keynote Speaker
Warrior East's keynote speaker is Sal Giunta, a former United States Army soldier and the first living person since the Vietnam War to receive the United States Armed Forces' highest decoration for valor, the Medal of Honor. Giunta was cited for saving the lives of members of his squad on October 25, 2007, during the War in Afghanistan. He left the United States Army in June 2011.
Adapt Laser's Sales Team
This past April, our CEO and our lead applications engineer were exhibitors at Warrior West in San Diego, CA. After finding the show to be rich in networking opportunities and extremely helpful in introducing us to potential clients in the defense and military sector, we decided to sign up to exhibit at the sister show on the East Coast. Two of our experienced sales managers will be in attendance at this show, and will be ready to answer any questions on the use of laser ablation in military and defense applications.
LASER ABLATION'S CURRENT USE IN MILITARY & DEFENSE
Laser ablation is ideal for applications like thick rust and paint removal, making it the perfect process to clean vehicles and equipment in the military and defense industry. Last year, our CL600 laser cleaning system—our highest mid-power option—was approved by the Department of Defense for Navy use. This included use on non-nuclear ships and extended a limited approval for in-service aircraft carrier applications and de-activated aircraft carrier applications and submarines. Other past work with the Navy includes the removal of hazardous paints from their warships.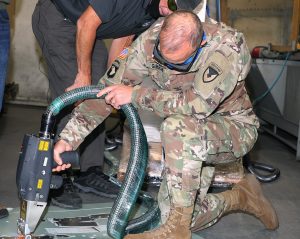 Prior to the CL600's approval, our laser cleaning systems have a well-established presence at multiple US Air Force and Army bases worldwide. Past work with the Air Force includes that at Travis Air Force Base, where their vehicles and equipment faced problems with large levels of corrosion build-up.
The Army has come to us with problems surrounding hexavalent chromium coating removal—a powerful anti-corrosive agent—due to it's high levels of toxicity and presence on many large aircrafts.
WHATEVER YOUR NEEDS, ADAPT LASER HAS THE SOLUTION FOR IT
Adapt Laser specializes in providing the highest-quality laser cleaning systems available. Our systems come in both handheld and automated options making them versatile for different applications and surface preparation. We offer formal laser operations and safety training to ensure both you and your employees get the most out of their laser cleaning system. Over the past 15 years we have equipped numerous companies across varying industries with our state-of-the-art laser cleaning solutions.
If you're looking for a faster, totally unique industrial cleaning and coating removal process, contact us today or call (816) 466-5855 to find the right laser cleaning system for you.
Like us on Facebook, connect with us on LinkedIn, and subscribe to us on YouTube