During the laser cleaning process, the material you're ablating will become airborne contaminants—allowing microbes and other dangerous particles to escape into the surrounding environment. In order to properly catch, store, and dispose of these particles and fumes, you'll need a high-quality fume extraction system. Our partnership with TEKA grants us access to the best fume extraction systems on the market for laser applications including cutting, marking, engraving, and cleaning.
PARTNERSHIP WITH TEKA
The idea to sell fume extraction systems in conjunction with our lasers came from the filter units themselves, as we wanted the ability to pair our top of the line laser cleaning systems with fume extractors of equal caliber. Keeping the environment and operators safe when using our systems was extremely important and the number one thing we kept in mind when searching for a fume extraction system supplier.
In the end, we stuck close to our German roots, and have worked exclusively with TEKA for our filtration needs since 2005. TEKA's high-quality filtration systems paired with their reliability in performance soon proved to be a perfect match for our state-of-the-art laser cleaning systems.
Although it varies by application, our partnership has allowed us to test what laser systems work best with certain fume extraction units. For example, over time we've found that the LFE 401 works really well with mid power and high power cleaning lasers, as it's fairly high capacity while still being a compact system.

SUPERIOR FILTRATION: TEKA'S LFE 401
The LFE 401 is TEKA's mobile filter unit designed for applications where the rate of particles is relatively high—like laser cleaning, laser cutting, and laser engraving.
OLDER GENERATION MODELS VS LFE 401
After systems are out in the field for a few years, developers at TEKA will take feedback from customers and incorporate it into their existing designs to better match changing customer needs.
In the case of the LFE 401, the biggest upgrade surrounds the three smaller cylindrical cartridge filters.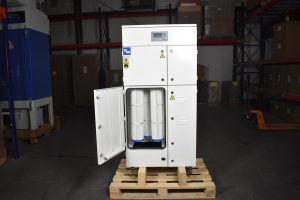 The older generation of the LFE system used one large cylindrical cartridge filter instead of three smaller filters like the LFE 401 now has. The surface area of these three cartridges is roughly the same, but now there is less resistance in the filter cabinet. This means higher air velocity and more intense suction—both key components in the filtration process.
LFE 401 BENEFITS:
Low-noise Emissions—preferable for office spaces and calm working environments
Nano-Coated Filters—to help assist with automatic cleaning
Extended Lifespan—the current pneumatic cleaning method uses a blast of compressed air to remove particulates from the filter fabric, enabling the filters to last longer. This process is called surface filtration.
Activated Carbon Filter—removes any excess odors or fumes
HEPA/ULPA Post Filter—extra safeguard

HEPA filters are 99.99% effective at capturing particles as small as 0.3 micrometers
ULPA filters are 99.9995% effective and capture particles as small as .12 micrometers

The LFE 401, like TEKA's other systems, offers numerous benefits that make the fume extraction process more safe and efficient than others currently available.
One of the biggest reasons we believe our partnership with TEKA benefits our customers is because it gives them the ability to buy both their laser system and fume extraction system at the same time. This way, all of the guesswork is taken out of it, as the fume extraction unit will be rightsized for both the laser system and the application for which you'll be using it. If you're interested in learning more about fume extraction systems, our buying guide goes into more detail.
WHATEVER YOUR NEEDS, ADAPT LASER HAS THE SOLUTION FOR IT
Adapt Laser specializes in providing the highest-quality laser cleaning systems available. Our systems come in both handheld and automated options making them versatile for different applications and surface preparation. We offer formal laser operations and safety training to ensure both you and your employees get the most out of their laser cleaning system. Over the past 15 years we have equipped numerous companies across varying industries with our state-of-the-art laser cleaning solutions.
If you're looking for a faster, totally unique industrial cleaning and coating removal process, contact us today or call (816) 466-5855 to find the right laser cleaning system for you.
Like us on Facebook, connect with us on LinkedIn, and subscribe to us on YouTube