Our handheld laser cleaning options are optimized for small projects that require a targeted focus. From delicate artifacts and molds to manufacturing automotive parts, our handheld options provide the flexibility you need without sacrificing the intensity you'd expect across any of our laser solutions. This means you'll gain the mobility you need to clean varying geometries, multiple part numbers, and more. Our handheld laser cleaner options come in low, mid, or high-powered solutions to suit your unique needs and are a family of lasers for multiple categories. They use thousands of short, focused laser pulses per second to effectively remove contaminants without damaging the substrate. Our laser solutions are user-friendly and offer a variety of optic systems — including ultra-compact. And, with Adapt Laser's thorough training, you can learn how to easily and properly operate, clean, and maintain your laser solution. Included below is our family of laser solutions for multiple categories. But — depending on your needs — any of our laser solutions can be handheld options. Talk to our sales team to learn more.
Our Handheld Laser Cleaners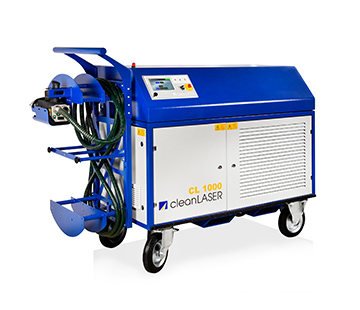 CL1000
The most powerful hand-held laser on the market. It eliminates corrosion from metals without affecting the integrity of the substrate.
LEARN MORE