You can find us exhibiting once again at this year's International Manufacturing Technology Show—IMTS—the largest and longest-running industry trade show in the Western Hemisphere. IMTS is held every other year at McCormick Place in Chicago, Illinois and is where creators, builders, sellers, and the drivers of manufacturing technology go to connect and be inspired. With a record breaking attendance of just under 130,000 in 2018 and COVID forcing the cancellation of the 2020 show, they're expecting this year to be the biggest yet.
IMTS 2022 DETAILS
WHAT: The Largest and Longest Running Industry Tradeshow In the Western Hemisphere
WHERE: McCormick Place—Chicago, Illinois —Booth #: 236446 in Level 3 of the North Building
WHEN: September 12-17th, 2022
PRESENTED BY: The Association of Manufacturing Technology (AMT)
For 5 days you can visit over 2,000 booths spanning 9 pavilions showcasing the newest cutting edge technologies. IMTS attracts industry professionals from around the globe who visit to discover the latest innovations in digital and traditional manufacturing, to experience more than 15,000 new machining technologies, and to find processes that will help solve their manufacturing challenges and improve efficiency.
---
HOW TO ATTEND
REGISTRATION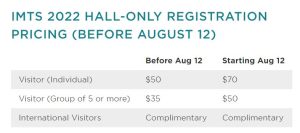 For access to just the exhibit halls, registration for IMTS can be found here, with a discounted option available until August 12th. There are also discounts able for AMT members, distributors, members of the media/press, and students and educators of all levels.
For conference registration which includes certain forums, workshops, and symposiums as well as access to exhibit halls, pricing breakdowns can be found here.
WHERE TO FIND US
With attendance reaching record highs in 2018 with just under 130,000 attendees, McCormick place has been the ideal venue to hold the large tradeshow as it boasts an astounding 2.6 million square feet between its 4 inter-connected buildings.
You can find us at Booth: # 236446 in the North Building on the 3rd Floor during the tradeshow. We will have a mix of our marketing and sales team present to answer questions and chat about our laser cleaning systems and the popular applications we've created solutions for across varying industries.

---
WHY LASER CLEANING?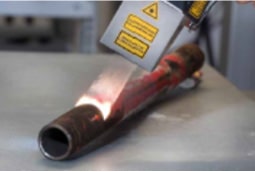 Our laser cleaning systems are versatile and come in both handheld and automated options and range from 20W-2000W. More traditional processes cause time constraints due to a longer setup and cleanup period and can be harmful to the substrate, operator, and the environment. Laser ablation on the other hand is safe and efficient and has other benefits including:
No clean-up required
Operator & Environmentally-friendly
Low operating cost
Low maintenance
Only PPE required is safety glasses
With our headquarters based in Kansas City, MO and sales representatives and service technicians around the country, we have the ability to travel to your facility for demos, installation, and trainings. We also accept parts for testing in our applications lab where our applications engineer will create a report showing the results which will help decide if laser cleaning is right for the application.
---
WHATEVER YOUR NEEDS, ADAPT LASER HAS THE SOLUTION FOR IT
Adapt Laser specializes in providing the highest-quality laser cleaning systems available. Our systems come in both handheld and automated options making them versatile for different applications and surface preparation. We offer formal laser operations and safety training to ensure both you and your employees get the most out of their laser cleaning system. Over the past 15 years we have equipped numerous companies across varying industries with our state-of-the-art laser cleaning solutions.
If you're looking for a faster, totally unique industrial cleaning and coating removal process, contact us today or call (816) 466-5855 to find the right laser cleaning system for you.
Like us on Facebook, connect with us on LinkedIn, and subscribe to us on YouTube