We will be exhibiting at the NGAUS General Conference & Exhibition where more than 2,000 Army and Air National Guard officers from all 50 states, three territories and the District of Columbia gather to network, set their legislative agenda, and hear from America's civilian and military leaders. Family members, industry representatives, and local officials also attend this event.
145th General Conference & Exhibition
WHAT: The NGAUS General Conference is the Association's annual business meeting
WHERE: Reno, Nevada at the Reno Sparks Convention Center—Booth #: 1764
WHEN: August 18-21, 2023
PRESENTED BY: NGAUS

---
WHAT TO EXPECT
Recent speakers include congressional leaders, cabinet-level secretaries, Army and Air Force secretaries and chiefs, and other senior Pentagon officials.
NGAUS will hold a trade show in conjunction with the conference featuring products and services from more than 300 companies or organizations.
Primary social events include the Governor's Reception, Hospitality Night and the States Dinner. Other events include golf tournaments, a Fun Run, mixers and luncheons.

WHERE TO FIND US
Come chat with our sales team at Booth #1764.
LASER ABLATION'S CURRENT USE IN MILITARY & DEFENSE
ARMY NATIONAL GUARD PURCHASES SEVEN CL1000 LASER CLEANING SYSTEMS
Right before the end of last year we received the largest order in company history from the US Army National Guard who purchased seven high-power CL1000 laser cleaning systems. After having used  a variety of different processes in the past to strip their vehicles and equipment of paints, rusts, greases, and oils the USARNG has turned to laser ablation technologies to help reduce hazardous exposures and operator fatigue created with older processes like water & media blasting and using hand held tools.

OTHER MILITARY & DEFENSE APPLICATIONS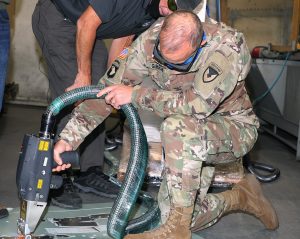 In 2021, our CL600 laser cleaning system—our highest mid-power option—was approved by the Department of Defense for Navy use. This included use on non-nuclear ships and extended a limited approval for in-service aircraft carrier applications and de-activated aircraft carrier applications and submarines. Other past work with the Navy includes the removal of hazardous paints from their warships.
Prior to the CL600's approval, our laser cleaning systems have a well-established presence at multiple US Air Force and Army bases worldwide. Past work with the Air Force includes that at Travis Air Force Base, where their vehicles and equipment faced problems with large levels of corrosion build-up.
The Army has come to us with problems surrounding hexavalent chromium coating removal—a powerful anti-corrosive agent—due to it's high levels of toxicity and presence on many large aircrafts.
---
WHATEVER YOUR NEEDS, ADAPT LASER HAS THE SOLUTION FOR IT
Adapt Laser specializes in providing the highest-quality laser cleaning systems available. Our systems come in both handheld and automated options making them versatile for different applications and surface preparation. We offer formal laser operations and safety training to ensure both you and your employees get the most out of their laser cleaning system. Over the past 15 years we have equipped numerous companies across varying industries with our state-of-the-art laser cleaning solutions.
If you're looking for a faster, totally unique industrial cleaning and coating removal process, contact us today or call (816) 466-5855 to find the right laser cleaning system for you.
Like us on Facebook, connect with us on LinkedIn, and subscribe to us on YouTube