Like any other large piece of machinery, your laser cleaning system will need routine servicing and general maintenance to ensure optimal performance. To help with this, we take our post-installation support seriously and have tailored service contracts that include guaranteed response times and critical spares on-site. Because not all companies need the same level of support, we have different options that our sales team and service department offer to customers. So, what does our general support look like versus extra service options?
GENERAL SUPPORT
Commissioning
When installing your system, we will check the vital settings, the power level, the current voltage settings, and to see if the system is performing as expected. Because the exact wattage specs were all considered during our initial testing and sales process, this quality check is just a standard practice to establish a baseline record for annual service checks.
Operations and Training
Operations Training—Will include the fundamentals on how your laser system works and how to change parameters for different ablations. We won't leave your facility until we are sure you have the know-how to run your system efficiently.
General Maintenance—Some day-to-day maintenance—like filter cleaning and desiccant swapping—can be taught to your employees, cutting down the time and costs needed to have our technicians on-site to help.
Laser Safety Training—One of the most important parts of our post-installation support, is verifying that you and your employees are fully knowledgeable about laser safety practices and are comfortable implementing them in real time. Part of this training will include the basics of eye protection and knowing the right safety glasses to wear as well as how and where to create your laser controlled area.
Service/Maintenance Contracts
Our service contracts are meant to fit your company's specific applications and operational needs. Together, our sales team and service department will craft a plan that works best for your facility that can be continuously adapted to your system's performance requirements. Below are some of the extra service support options that we currently provide to customers.
EXTRA SUPPORT WE OFFER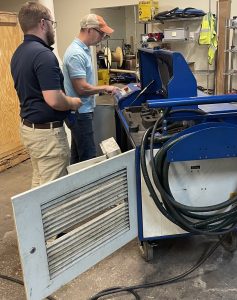 Guaranteed Response Times—Our response times mean you're guaranteed to speak with one of our laser experts within your contract's specified 24, 48, or 72-hour time period. This is ideal for our customers in manufacturing industries that can't have any sort of downtime without losing revenue.
Critical Spares—Because shipping times and geographic logistics can be hard to work through last minute, we recommend that our customers, especially those in manufacturing industries, keep critical spares on-site. Our sales team and and service department will work together to determine the spare parts and consumables your system needs if an immediate breakage or shortage were to happen, and will have them shipped to your facility.
Processes Support— We can teach you about the ins and outs to your laser system. By knowing how to fully utilize the system, you have the option to set up new processes and change the laser configuration. This allows you to bring in a new product and begin to identify and put together your new process— specific to that application.
Software Training & Re-Initialization—If you're worried about how employee turnover may affect your operations, we offer virtual re-initialization training that will walk your new employees though your system, parameter by parameter.
Upgrade Suggestions—As we continue to push our designs to be more functional and operator-friendly, we can also help provide upgrade suggestions that will help your system perform better, including our quick disconnect and beam switch options. We also can provide you with feedback when it comes to changes in your environment or materials that may affect suction, by pointing you towards an optic or nozzle that is better suited.
WHATEVER YOUR NEEDS, ADAPT LASER HAS THE SOLUTION FOR IT
Adapt Laser specializes in providing the highest-quality laser cleaning systems available. Our systems come in both handheld and automated options making them versatile for different applications and surface preparation. We offer operations and safety training to ensure both you and your employees get the most out of their laser cleaning system. Over the past 15 years we have helped equipped numerous companies across varying industries with our state-of-the-art laser cleaning solutions.
If you're looking for a faster cleaning process, contact us today or call (816) 466-5855 to find the right laser cleaning system for you.
Like us on Facebook, connect with us on LinkedIn, and subscribe to us on YouTube